A potentially significant meeting took place in Beijing this week when Chinese President Xi Jinping met US Secretary of State Antony Blinken.
Blinken's visit to Beijing was ostensibly to meet his Chinese counterpart, Foreign Minister Qin Gang. Qin had previously been China's ambassador to the US until earlier this year and was well-known in Washington diplomatic circles. Blinken's trip to Beijing had been scheduled for some time, and then postponed.
The meeting with Xi, however, was uncertain until shortly before it happened.
Media coverage of the event seems to reflect some of the inherent uncertainties in the US-China relationship, as well. Some photographs depict Blinken as slightly concerned or ferocious, while others appears to show Xi towering over Blinken.
Some images, however, show more open, friendly gestures between the two – perhaps signalling a genuine thawing of the recent frosty relations between the two superpowers.
How relations deteriorated this year
So, what does this meeting mean in reality? In terms of significance, its not the content of the talks that matter so much as what preceded them.
When Biden came into office in early 2021, it seemed to herald a slight rapprochement between the two governments. Though there were still disagreements over many issues, the two leaders held a virtual summit at the end of 2021.
Then, on the sidelines of the G20 meeting in Bali in November 2022, Xi and Biden met face to face and spoke at some length. There was a general feeling of mutual appreciation in their respective positions on global issues such as climate change. It was not so much a meeting of minds, but rather an agreement to avoid the catastrophe of open conflict.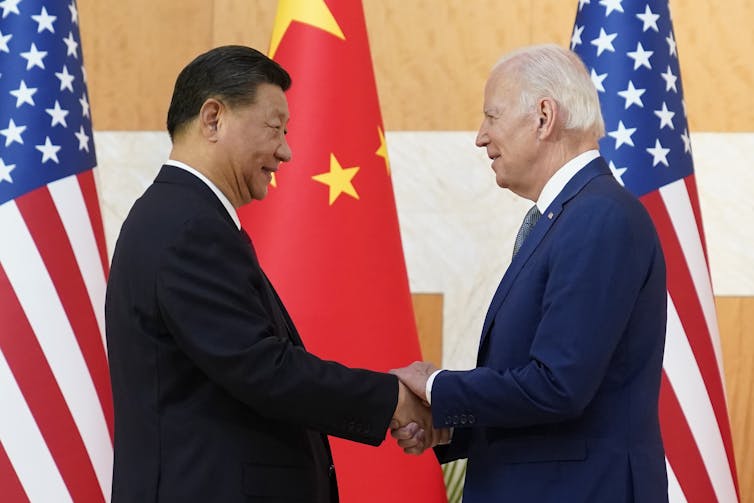 The leaders also agreed that Blinken would visit Beijing in the new year.
This atmosphere of gradually improving relations came to a halt in February, however, when a Chinese high-altitude balloon – dubbed a "spy balloon" in the US – drifted across North America and was eventually shot down by the US Air Force. Blinken's visit was postponed, and China criticised the US for destroying the balloon, which it claimed was a weather balloon.
While both sides eventually emphasised the continued need for dialogue, a standoff developed. The situation only worsened when a US reconnaissance flight in the South China Sea was intercepted by a Chinese fighter in late May.
Then, three weeks ago, western media reported that the Chinese defence minister, Li Shangfu, had snubbed the US secretary of defence, Lloyd Austin, by turning down the opportunity to meet at a security conference in Singapore.
Given the several meetings between US presidential advisers and their Chinese counterparts that had taken place in May before the summit, the significance of Li and Austin not speaking in Singapore may have been exaggerated. At worst, it could be considered a lost opportunity.
The Chinese government may have wanted to ensure Blinken's rescheduled visit to Beijing would go ahead this month, putting more emphasis on these high-level talks than the meeting between defence officials.
'Candid, substantive and constructive'
While there were apparently no major breakthroughs in Beijing, Blinken's visit appears to have succeeded in returning relations between the two governments to where they were in November 2022.
The leaders seemed to reinforce the sentiments of that earlier meeting in Bali, focusing on mutual respect and the need to avoid a drift to conflict. Among other things, Xi told Blinken that rivalry between great powers could not solve problems in the United States or challenges facing the world.
Neither party can shape the other according to its own wishes, let alone deprive the other of its legitimate right to development.
The State Department, meanwhile, characterised the discussions as "candid, substantive and constructive", emphasising
the importance of maintaining open channels of communication across the full range of issues to reduce the risk of miscalculation.
Both sides still have domestic constituencies to appease and without a doubt Washington's may prove less biddable than Beijing's.
For example, from the Chinese reports of the meeting Beijing seems to be willing to reopen discussions with Washington on climate change and cooperation on transnational crime of various sorts.
In return, China might well expect some greater commitment from the US to not interfere in what Beijing considers its domestic interests in Taiwan. As China-based commentators have pointed out, American electoral politics may make that commitment difficult (though not impossible) for Biden and Blinken to deliver.
The next step in placing US-China relations on a more even keel would be increased interactions between the two governments. While these have been agreed for the near future in foreign affairs, finance and economic development, the two sides have apparently not agreed to resume talks between their military leaders.
Biden and Xi are expected to meet again face to face later this year, perhaps at international summits in India or San Francisco.
Biden is unlikely to visit China himself, though, in the near future. In what is increasingly becoming not just a bad-tempered but an inherently divisive presidential election campaign in the US, that might prove a difficult step for the incumbent to do.
Source: The Conversation
Also read: Why Chinese yuan may become a major global currency