A fruit that could feed the world – who knew the humble jackfruit had so much hidden potential? Daniel Riegler, co-founder of Karana, tells the Singapore Global Network how they differentiate themselves by producing plant-based "pork" made of jackfruit and why he chose to set up shop in Singapore.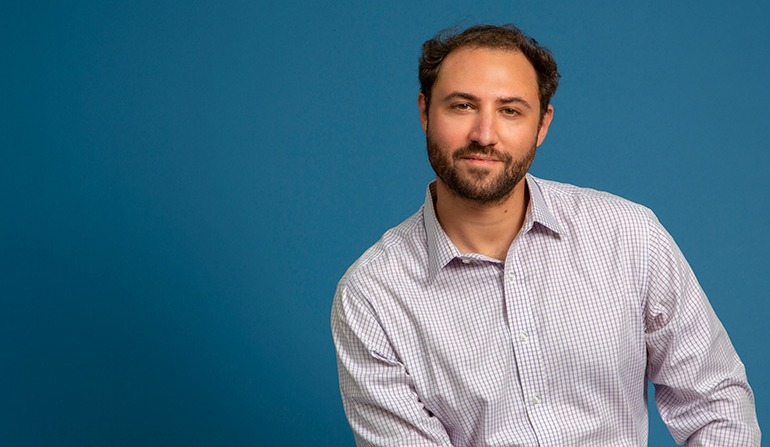 Daniel Riegler is the co-founder of Karana, Asia's first whole-plant based meat brand that offers minimally processed whole-plant based meat alternatives using jackfruit.
Daniel Riegler may have started his career in finance, but he never stopped looking for an opportunity to pursue solutions that intersected sustainability and commercial viability. "I started my career in finance, but I was never very passionate about it," he laughs.
After spending several years rotating across Southeast Asia and more agriculture-based economies such as Uganda, Zimbabwe and South Africa for several years, Daniel grew to recognise the untapped potential of traditional agriculture industries. "I saw from the inside how the majority of our food is produced at an industrial scale. It was an area with a huge need for innovation and solutions across the value chain," he explains.
The time for plant-based meat has come
In recent years, as more and more consumers grew aware of the toll industrial animal agriculture took on both the environment and human health, many are now making a conscious effort to go plant-based or incorporate sustainable practices in their lifestyle. These factors, Daniel says, are driving the demand for plant-based products. "If we don't make conscious choices to improve the way we eat today, we'll be forced to in the very near future. Climate change is already impacting food production – weather patterns are changing, water resources are limited, and soil conditions are worsening," he asserts.
This inspired him and co-founder Blair Crichton to venture into the food tech sector with Karana, a plant-based meat startup which primarily works with jackfruit as an alternative meat source. When they first founded Karana in 2018, they began by intentionally honing in on identifying meat products that were consumed at scale in the region, so that they may create a product that could make the biggest change as a company.
"Pork is one of the most widely consumed meats in the world and the most consumed meat in the Asia-Pacific region. It is also a huge source of problems when it comes to sustainability, health, and ethics," Daniel explains. With the meat they wish to replace identified, the two went on to review over 150 plant species before identifying jackfruit as the super crop that stood out from farming, sustainability, nutritional and product standpoints.
Daniel adds, "Jackfruit contains high fibre levels, no cholesterol, is lower in fat and calories as compared to meat, and as a crop, is abundant, sustainable, and biodiverse. In fact, it is estimated that 60 per cent of jackfruit crops go to waste each year, with a single jackfruit tree capable of producing more than 200 fruits in a year."
"Jackfruit is one of the most sustainable crops in the world and a very friendly crop for smallholder farmers. It can offer significant income generation potential while requiring minimal inputs and maintenance. It is mostly grown intercropped (crops grown among other plants, usually in alternating rows or sections) on mixed farms, which is much better for soil health and provides diversification for farmers."
Daniel Riegler

Co-founder

Karana
The jackfruit that Karana uses are ethically sourced from smallholder supply chains around the region. This not only ensures that the jackfruits are ethically produced; sourcing strategically from regional partners will also further Singapore's goal of strengthening food security even as the country ramps up local food production. This has been a recent focus of the Singapore government, who continues to push out more support for food initiatives in a bid to achieve the nation's target of having 30 per cent of food be sourced locally by 2030.
From samosas to rillettes, to burgers, dumplings and sandwiches, Karana can be used in any way that pork is used in a dish. Karana's focus on creating pork-like meat alternatives stem from the founder's passion to address the most largely consumed meat source in the region. Daniel shares that Karana is looking to develop products that taste and feel like other meat source.
"Singapore is very well connected to the markets where we are looking to source products, and is well-positioned to act as a food and agriculture tech hub for the region."
Daniel Riegler

Co-founder

Karana
Daniel adds that strong government support for growing foodtech startups also factored in to Karana's decision to base their operations here.
Innovate 360, Singapore's food incubator and food-focused accredited mentor partners (AMP) that is supported by Enterprise Singapore, was also started to provide food labs and manufacturing spaces support for new startups in the sector. By being part of the incubator, Daniel and Blair came to qualify for the specialised EntrePass visa, which allows foreign entrepreneurs to start and operate businesses in Singapore that are venture-backed or possess innovative technologies. The EntrePass also helped them become eligible for government support and grants.
Harnessing the potentials of the jackfruit
As the founder of a lean early-stage startup, much of Daniel's role included travelling extensively around the region, visiting jackfruit farmers in Sri Lanka, meeting with investors, focusing on product development or sampling prototypes with customers. Flying has since ceased owing to ongoing travel restrictions but will resume once restrictions ease.
"We spend a lot of time on R&D to develop ways to work with jackfruit, so we may transform it into different kinds of products," Daniel explains. To make jackfruit taste like meat, the team iteratively develops prototypes and routinely gathers the feedback of chefs and customers to refine their product.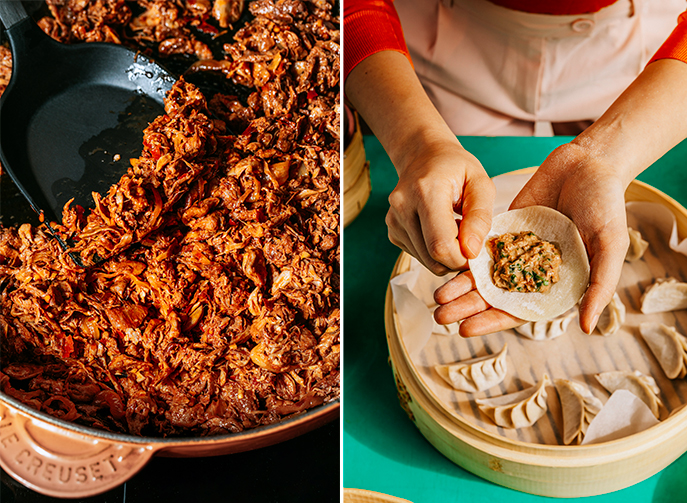 Karana's meat shreds (left) and meat mince (right) can be used in a variety of cuisines. The start-up has also partnered with restaurants in Singapore and Hong Kong to develop new dishes, and have plans to enter more markets and venture into retail.
This includes working out the optimum time to harvest their jackfruits to produce the best meat-like texture and taste. For instance, the team learnt that older jackfruits developed more sugars and have a sweeter flavour and fragrance which can make the fruit taste less like meat. By working closely with chefs, customers and the R&D team, Karana developed meat shreds and minced meat that has found its way into some of the best restaurants in Singapore and Hong Kong.
Taste aside, Daniel emphasises that Karana is one of the most minimally processed meat alternatives in the market – its meat shreds include four ingredients, and its meat mince are made up of only five ingredients. "We believe great foods should not be made with artificial preservatives, colours, and flavours. Our jackfruit is minimally processed, and they are soy free," he says.
While he acknowledges that there is a big emphasis on protein content, he stresses that in wealthier, food secure countries, most consumers get more than enough protein from other sources of food while many macro- and micro- nutrients like fibre are being under-consumed.
"We have become very used to eating whatever we want, whenever we want but that is a relatively modern convenience and unfortunately one that is not sustainable. Our products are a direct response to consumer demands for improved health and transparency, which is a main driver in reducing meat consumption," Daniel adds.
He emphasises that going plant-based can help consumers to achieve a better diet for health and the environment, and urges those who are sceptical to try going plant-based just once a week. "The best diet is still one that consists of mostly whole foods and delivers a well-rounded nutritional profile – if we are not able to moderate how we consume, nature will do it for us" he says.